Från twitter
''Lafayette'' skrev så här på sin twitter nyss och la in denna bild:
Man ser inte så mkt på bilden men det e dom som filmar säsong 3
---
Namn på (några av) avsnitten säsong 3!!
Okeyy.. inte så stor spoilers men om du inte vill veta något om säsong 3 fortsätt inte att läsa
Här e namnen på avsnitten Säsong 3:
Avsnitt 1 - ''Pack of Wolves''
Avsnitt 2 - ''Beautifully Broken''
Avsnitt 3 - ''It Hurts Me Too''
Avsnitt 4 - ''9 Crimes''
Avsnitt 5 - ''Trouble''
Avsnitt 6 - ''What do you know about Love''
Avsnitt 7 - ???
Avsnitt 8 - ???
Avsnitt 9 - ???
Avsnitt 10 - ???
Avsnitt 11 - ???
Avsnitt 12 - ???
Resten av avsnitten är inte avslöjade än ;o
(bilden har inget med inlägget att göra)
---
TRUE BLOOD NOMINERADE FÖR SATURN AWARDS
True blood och dess stjärnos är nu nominerade för varsitt pris i galan saturn awards. Vinnarna kommer utses den 24 Juni i Burak.
Best Syndicated/Cable Television Series:
Breaking Bad (AMC)
Battlestar Galactica (SyFy)
The Closer (TNT)
Dexter (Showtime)
Leverage (TNT)
True Blood (HBO)
Best Actor in Television:
Josh Holloway (Lost) (ABC)
Bryan Cranston (Breaking Bad) (AMC)
Matthew Fox (Lost) (ABC)
Michael C. Hall (Dexter) (Showtime)
Zachary Levi (Chuck) (NBC)
Stephen Moyer (True Blood) (HBO)
David Tennant (Doctor Who: The End of Time) (BBC America)
Best Actress on Television:
Anna Gunn (Breaking Bad) (AMC)
Jennifer Love Hewitt (The Ghost Whisperer) (CBS)
Evangeline Lily (Lost) (ABC)
Anna Paquin (True Blood) (HBO)
Kyra Sedgwick (The Closer) (TNT)
Anna Torv (Fringe) (Fox)
Best Supporting Actor on Television:
Jeremy Davies (Lost) (ABC)
Michael Emerson (Lost) (ABC)
Aldis Hodge (Leverage) (TNT)
Aaron Paul (Breaking Bad) (AMC)
John Noble (Fringe) (Fox)
Alexander Skarsgard (True Blood) (HBO
Best Guest Starring Role in Television:
Bernard Cribbins (Doctor Who: The End of Time) (BBC America)
Raymond Cruz (Breaking Bad) (AMC)
Michelle Forbes (True Blood) (HBO)
John Lithgow (Dexter) (Showtime)
Leonard Nimoy (Fringe) (ABC)
Mark Pellegrino (Lost) (ABC)
/
---
Två nya skådespelare ! SPOILERS
SPOILERS Säsong 3!!
Heheh två nya skådespelare IGEN
Grainger Hines:
''Grainger Hines has been added to the cast of True Blood as Colonel John Flood starting in Epsiode 5 – [COLONEL JOHN FLOOD] In his 50s to 60s.. self-assured, dressed like a golfer with a military haircut, he is a Wolf Pack Leader. He doesn't respond the way Sookie and Alcide expect to recent events. ..GUEST STAR (27)''
Och Mark Casimir Dyniewicz:


''Mark Casimir Dyniewicz has been added to the cast as a Werewolf in Episode 4 (9 CRIMES)''
---
Nya skådespelare samlade SPOILERS!
SPOILERS säsong 3!!!
Hittade ett jätte bra inlägg där dom har samlat många av dom nya skådespelarna till säsong 3 (inte alla)
Klicka
HÄR
för att komma dit.
Jag kopierar även listan o om vi klickar på skådespelarnas namn finns det mer info.
WARNING: Character spoilers below!
Denis O'Hare – Russell Edgington, King of Mississippi, vampire
Grant Bowler – Coot, leader of a motorcycle gang, werewolf
Theo Alexander – Talbot, Russell's "trophy husband", vampire
Shannon Lucio – Caroline Compton, Bill's wife before he was turned, human
Marshall Allman – Tommy Mickens, Sam's younger brother, possible shifter
J. Smith-Cameron – Melinda Mickens, Sam's mother, possible shifter
James Frain – Franklin Mott, Tara's love interest, vampire
Alfre Woodard – Ruby Jean Reynolds, Lafayette's mother, human
Natasha Alam – Yvetta, dancer at Fangtasia/Eric's lover, human?
Gregg Daniel – Reverend Daniels, Lettie Mae's pastor, human
Joe Manganiello – Alcide, assists Sookie in searching for Bill, were
Cooper Huckabee – Joe Lee Mickens, husband of Melinda, human
Lindsay Pulsipher – Crystal Norris, has a connection to Jason, were
Kevin Alejandro – Jesus Velasquez, love interest for Lafayette, human
Brit Morgan – Debbie Pelt, Alcide's ex, were
---
SÄSONG 2 PÅ SVT I MARS!!!
En god nyhet allihopa!!!  Säsong 2 har säsongs premiär på svt den 3 mars kl 22!! Så den kommer alltså visas varje Onsdag !!
Första avsnittet heter Nothing But the Blood:
Om du inte har sett hela säsong 1 än kan du se den på watchxonline.com
---
Nya skådespelare för säsong 3 + annat x)
Heey! Sry att jag inte uppdaterat på länge! Fullt upp i skolan... Men jag har hunnit läsa dom första sex böckerna nu i sookie stackhouse serien (true blood böckerna)!! Dom e bara såå bra jag har blivit helt beroende av dom!!! och om du inte har läst dom säger jag bara GÖR DET!! Spring till närmaste bokhandel eller bibliotek! Jag ska börja läsa den sjunde nu (All together dead) Om du vill veta ordningen på alla böcker elr hur dom ser ut kolla på mitt tidigare inlägg
HÄR
om hela serien.
Tillbaka till ämnet 3 nya skådespelare:
James Harvey Ward                       Sylvianne Chebance 
Tamara Frapasella
'' Three additional characters have been cast for True Blood. If HBO's keeps this up their going to have to rent more studio space for all the new cast members.
Tamara Frapasella has been cast as Henchwoman in Episode 2.
Sylvianne Chebance has been added in Episode 2 as Were-Bitch.
[WERE-Bitch] FEMALE, 20s or 30s, NAKED, MUST SPEAK GERMAN. Seen in flashback to World War II, this naked, trembling German woman pleads for help, but suddenly and terrifying transforms…4 lines, 2 scenes (9)
James Harvey Ward has been added in Episode 4 as Felton Norris.
[FELTON NORRIS] Early 20s, this violent young punk is a relative of Calvin's who strips Lafayette's car and helps beat up Lafayette…1 line, 2 scenes RECURRING ''
---
NYA OUTTAKES MED RYAN KWANTEN
Kommer ni ihåg mitt inlägg om att Kyan Kwanten var med i August Man's Magazine, inte klicka då 
här.
Nu har det kommit nya outtakes!
Nice nice!
/
---
DAGENS BILD
/
---
RYAN KWANTEN I AUGUST MAN'S MAGAZINE
Vår kära Ryan Kwanter pryder både omslaget och innehållet av August Man's Magazine!
Här är några outtakes och omslaget.
Är det bara jag som  tycker att killen är läcker?!
---
INTERVJU MED MARIANA KLAVENO
PopEater
har nyligen intervjuat Mariana Klaveno.
Other vampire fiction – and there's a lot of it out there right now – has a very simplistic take on vampire mythology. You have a soul, you're good. You don't have a soul, you're evil. 'True Blood' is interesting to me, in that the vampires do have to exploit humans because that's where the blood lives, but they're very nuanced. Some of them are nice and have respect for humans, some are primarily working their own agenda but they have some kind of sense of compassion… and then there's your character Lorena, who is thus far… well… why is she so just evil?

"The writers have put just a tiny little nugget in an episode that has just been released, which I can't say, of course. I love that it is more complex and each vampire, there's a lot of gray area between what they do to fulfill their needs and how they relate to the humans. I think that's one of the brilliant things in the show. She is evil, and it's hard because, as an actor, you can't judge your character. I just really try to focus on the fact that she's… I don't think that she's evil for no reason. She's focused on Bill, and, as weird as it sounds, she's motivated by love, and that's where it comes from, and it's obviously a different plane than the one we live in."
Läs hela intervjun
här!
/
---
SAG AWARDS ARRIVALS
Här kommer lite bilder från SAG Awards Arrivals 23 januari 2010
Här är några av bilderna mer finns att se HÄR

---
NYA OUTTAKES PÅ ANNA PAQUIN
Nya outtakes! :D
//
---
GRATTIS I EFTERSKOTT
Den 7 Februari var det Deborah Ann Woll's födelsedag!
Grattis till henne!
---
NYA OUTTAKES?
Jag är inte säker, men jag tror de här outtakesen är nya?
Men en sak vet jag, de är jättesnygga!
Jag älskar bilderna, jättefina!
//
---
VACKERT
Hur kan man vara så här vacker?! Så söt!
Vem håller inte med mig?!
---
Snart är den här
Äntligen så finns det ett datum på när Säsong 2 kommer ut på dvd, nämligen 25 Maj på både dvd och blueray.
går att beställa på Amazon
Ska också gå att boka på cdon
och discshop så småningom

---
Spoilers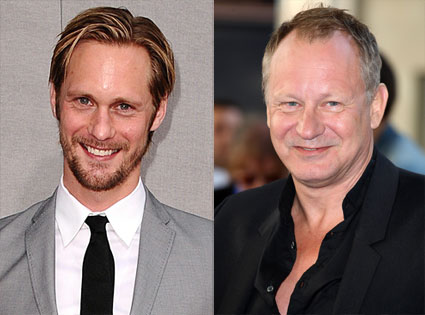 ja nu har de ryktas om att Alexanders riktigta pappa Stellan Skarsgård ev ska spela hans pappa i säsong 3 av True Blood. Men de är inte säkert än för dom behöver ju en som kan prata flytande svenska och vara i 40-50 års åldern.


men de har även spekulerats om att
Max von Sydow, Bill Nighy och Viggo Mortensen.
Von Sydow och Mortensen båda  talar faktiskt  svenska


Ja  vi får se vem som kommer att spela Eric Northmans pappa.

Ser verkligen fram emot säsong 3

---
NYA OUTTAKES PÅ MEHCAD BROOKS FÖR CALVIN KLEIN
Som ni kanske visste så är det ett par kändisar b.l.a Kellan Lutz(i twilight) och true blood kändisen Mehcad Brooks som samarbetar med Calvin Klein och tar bilder för kalsong försäljningen.
Här kommer några bilder.
//
---
Nya i cast (igen) SPOILERS!
Flera skådespelare till säsong 3! :
Dawn Olivieri ska spela Janice Herveaux som är Alcide Herveaux(som e en varulv) syster. Janice beskrivs som:
'32-yr-old fit, tough as nails woman, in biker gear, into horoscopes and psychics who also happens to be Alcide's protective older sister.'
I avsnitt två ( som heter ''It hurts me too'') kommer dessa två vara med:
Andy Mackenzie kommer spela en ''läskig kille som kör motorcykel'':
Och Tess Alexandra kommer spela en tjej som heter Rosie:
---
NY BILD FRÅN SÄSONG 1
Kan ni gissa vilken scen denna bilden tillhör?! :D
---
TRUE BLOOD QUIZ
Tror du du kan allt om True Blood?
Få reda på sanningen genom att  klicka på bilden och gör detta Quiz! :)
---